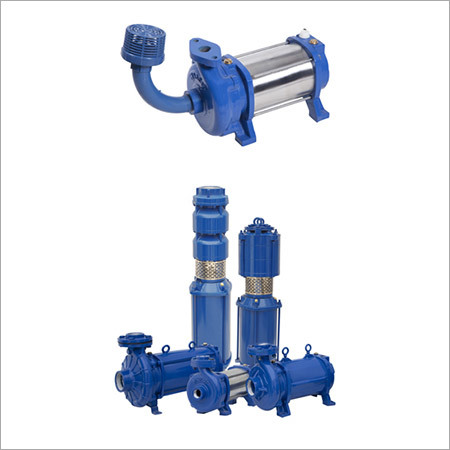 Open Well Submersible Pump
Product Code : 08
Product Description
The Mascot Pump Ltd. Company is offering an exclusive range of
Open Well Submersible Pump.
Our products are highly admired due to its various attributes such as superior performance, less maintenance, optimum quality, cost-effectiveness and much more. All the products are processed under the guidance of our skilled professionals, by using the latest tools & techniques and top grade quality raw material, as per the international standards. Furthermore, our company is supplying the range of
Open Well Submersible Pump
at market leading prices.
Application
:
Agricultural Irrigation
As Garden Pump
Civil Water supply
Domestic Water supply.
Industrial utility water supply.
Lift Irrigation Projects
Mining Dewatering Pumps
Rural Water supply
Specification of Open well Submersible pump / Monoset Pump

| | |
| --- | --- |
| Power Range: | 0.37kW to 30kW ( 0.5hp to 40hP) |
| Voltage Range: | Single Phase 200 - 240V, Three Phase - 380 - 415V |
| Frequency: | 50 Hz. |
| Speed: | 2880 RPM |
| Protection: | IP 58 |
| Insulation: | Class B |
| Duty: | Continuous. S1. |
| Max Start per hr: | 6 times. |
| Max. Head: | 300 mt |
| Max. Flow: | 230 m3/hr |
CHARACTERISTICS OF CLEAR COLD WATER :

| | |
| --- | --- |
| Temperature | 33oC |
| Permissible amount of sand | 25 gram/ m 3 |
| Chlorine ion density | 500 ppm (max) |
| Allowable solid | 3000 ppm (max) |
| Specific gravity | 1.004 (max) |
| Hardness (drinking water | 300 (max) |
| Viscosity | 1.75 x 106m2/ sec )max) |
| Turbidity | 50 ppm silica scale (max) |
| pH Value | 6.5 to 8.5 |
TECHNICAL SPECIFICATION :

| | |
| --- | --- |
| Power range | 0.37 kW - 15 kW (0.5 HP - 20 HP) Horizontal, 0.55 kW - 30 kW (0.75 HP - 40 HP) Vertical |
| Speed | 2880 RPM |
| Version | Single Phase. 200 - 240V, Three Phase, 380 - 415V, 50 Hz. A.C. Supply |
| Maximum total head | 300 meters (30.0 bar) |
| Maximum flow rate | 230400 LPH (230.4 m3/h) |
| Nominal outlet size in inches | 1. 1-1/4, 1-1/2, 2, 2-1/2, 3. 4 & 5 |
| Degree of Protection | IP 58 |
| Direction of rotation | Clockwise from driving end |
| Type of duty | S1 (Continuous) |
| Method of starting | Capacitor Start Capacitor (CSCR) / Permanent Split Capacitor (CSR), Direct on Line upto 5.5 kW, SD upto 30 kW |
| Maximum starts per hour | 6 Times |
MATERIAL OF CONSTRUCTION :

| | |
| --- | --- |
| Pump casing | CI |
| Stator shell | S.S. 304 / Mild Steel |
| Impeller | S.S., Cast Iron and LTB-2 |
| Shafl | S.S. 410 |
| Journal bearing | Leaded Bronze |
| Thrust Assembly | Leded Bronze and Compostos/ Stainless Steel 420 with Graphite Carbon |