Deep Well Submersible Pumps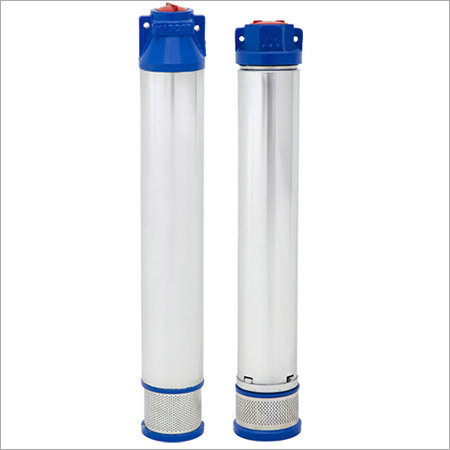 Deep Well Submersible Pumps
Price And Quantity
Piece/Pieces

5000.00 - 50000.00 INR
Product Specifications
Product Description
Our company is a well-known Supplier, Manufacturer and Exporter of Deep Well Submersible Pumps, based in Ahmedabad, Gujarat, India. The offered range is manufactured under the directions of our skilled professionals, by using the top-notch quality components and ultra-modern techniques. Furthermore, we are offering the range of the Deep Well Submersible Pumps at an affordable price.
Features Of Deep Well Submersible Pumps:
High Efficiency Design :
The Submersible Borewell Pump we offer is engineered with precision so that its hydraulic efficiency is at par with excellence. Due to this it becomes easy to pump water in and out in tones of volume. As our pumps are made of special glass field noryl diffuser & impeller it consumes less power.
Designed for Sand Resistance
Made of glass field noryl it can easily resist sand damages.
For a longer life the pumps are costumed with a diffuser bush and neck ring.
Only stainless steel hardware components and tube are used in our submersible deep wells.
Non Return Valve (NRV) :
To reduce or completely avoid the effect of Water Hammer in deep well pump and to prevent reverse rotation of borehole pumps our pumps are engineered with a NRV (Non Return Valve).
Dynamic Balancing :
Our motors, rotors etc., are fabricated as per the ISO quality standards.
Application Of Deep Well Submersible Pumps:
Our gamut is used:
To pumping our clear cold drinking water from borewell
To provide irrigation to the farms in agricultural industry
To provide water as sprinkler in garden and farms
Technical Specification Of Deep Well Submersible Pumps:

Performance Range of Deep Well Pump


| | |
| --- | --- |
| Minimum Borewell Diameter: | 80 mm / 3" |
| Maximum Pump Diameter: | 94 mm / |
| Flow Range m3/hr (Max.): | |
| Head Range mts (Max.): | 81 mt |




Operating Condition of Deep Well pump


| | |
| --- | --- |
| Maximum Liquid Temperature: | 40oC |
| Minimum Flow Velocity: | 0.2 m/sec. |
| Maximum Sand Content: | 50g/m3 |


V4 Model Range :

0.5 HP to 3.HP SP
0.5 HP to 6.0 HP TP

V-3 SUBMERSIBLE PUMP SET SUITABLE FOR 80 MM BOREWELL
V-3 SUBMERSIBLE PUMP SET SUITABLE FOR 80 MM BOREWELL
(WATER FILLED)

MODEL: M3R1L

DISCHARGE IN LPH & LPM

DEL. 1.00

"DISCHARGE IN LPH & LPM

HP

ST

LPH

600

900

1200

1500

1800

2100

2400

2700

3000

LPM

10

15

20

25

30

35

40

45

50

0.5

10

Head in Meter

40

38

35

32

28

24

20

14

9

0.75

15

60

56

52

47

41

36

29

21

14

1

20

80

75

70

63

55

48

39

28

18

1.25

26

104

98

91

83

72

62

52

36

23

1.5

30

120

117

109

98

86

74

61

43

28

Pump OD 74 MM

MODEL: M3R2L

DISCHARGE IN LPH & LPM

DEL. 1.00

"DISCHARGE IN LPH & LPM

HP

ST

LPH

1200

1500

1800

2100

2400

2700

3000

3300

3600

LPM

20

25

30

35

40

45

50

55

60

0.5

8

Head in Meter

34

32

29

26

22

19

15

12

5

0.75

12

51

48

44

39

34

28

23

18

8

1

15

64

60

55

49

42

35

29

22

10

1.25

18

79

72

66

59

50

43

35

26

12

1.5

25

107

100

92

82

70

58

48

37

17

Pump OD 74 MM

MODEL: M3R3L

DISCHARGE IN LPH & LPM

DEL. 1.00

"DISCHARGE IN LPH & LPM

HP

ST

LPH

1800

2100

2400

2700

3000

3300

3600

3900

4200

LPM

30

35

40

45

50

55

60

65

70

0.5

7

Head in Meter

28

26

23

21

19

16

13

9

3

0.75

10

39

37

33

30

27

23

18

13

4

1

13

50

45

41

37

33

30

23

15

7

1.25

15

59

56

50

45

40

34

27

20

8

1.5

18

71

67

60

54

48

41

32

23

9

Pump OD 68 MM

MODEL: M3R4L

DISCHARGE IN LPH & LPM

DEL. 1.00

"DISCHARGE IN LPH & LPM

HP

ST

LPH

1800

2100

2400

2700

3000

3300

3600

3900

4200

LPM

30

35

40

45

50

55

60

65

70

0.5

9


Head in Meter

25

23

21

19

17

15

10

6

2

0.75

12


34

31

28

25

23

20

14

7

4

1

16


45

41

38

34

30

26

19

9

6

1.25

20


56

52

47

42

38

33

24

12

8

1.5

25


17

65

59

53

47

41

29

15

10

PUMP OD 74 MM

MODEL: M3R5L

DISCHARGE IN LPH & LPM

DEL. 1.00

"DISCHARGE IN LPH & LPM

HP

ST

LPH

2400

3000

3600

3900

4200

4500

4800

5100

5700

LPM

40

50

60

65

70

75

80

85

95

0.5

6

Head in Meter

18

16

14

13

12

11

10

8

4

0.75

9

27

24

22

20

18

16

15

11

6

1

12

36

32

29

26

24

22

20

15

8

1.25

15

45

40

36

33

30

27

25

19

10

1.5

18

54

48

43

39

36

33

30

22

12


Trade Information
Yes

Asia, Australia, Central America, North America, South America, Eastern Europe, Western Europe, Middle East, Africa